Book an Appointment
Please take a moment to complete the form below
and we'll get in contact just as soon as we can.
Disclaimer? Any footer text required?
Kitchen Makeovers
MADE-TO-MEASURE KITCHEN DOORS & ACCESSORIES.
Get a new look kitchen
with a kitchen makeover
from the makeover artists.
Not everyone wants or needs a new kitchen. You might be one of them!
But more and more smart people are choosing to have a makeover from theKitchen & Makeover Company because the results are so very good and the savings both in time and money are quite substantial too.
DISCOVER WHAT ARE THEMOST POPULAR KITCHENMAKEOVER LOOKS
This is one of the most asked questions we get.
Now you can find out with our fabulous new brochure
'FAVOURITE KITCHEN MAKEOVER LOOKS'
DOWNLOAD BROCHURE HERE
KITCHEN MAKEOVERS
THAT LOOK AS GOOD AS NEW
This is definitely a recurring theme. At the beginning of the process customers start out thinking they are having a makeover, then talk as if they have got a new kitchen after it has all been done, because the results are so very good.
But it does help to have the Kitchen & Makeover Company on your side. They are the go-to experts having transformed many 100's of tired old rooms over the years, rejuvenating them with a new lease of life, making them look as good as new again.
Surprisingly there are many types of makeovers. They vary in price and also complexity in the things that can be done with a makeover.
You might like to download the helpful guide 'What sort of makeover would best suit you' in the box below which sets out the options and choices you have.
GET YOUR COPY OF 'WHAT SORT OF MAKEOVER WOULD MOST SUIT YOU GUIDE' HERE
Get the guide here
TO HAVE A CHAT ABOUT YOUR KITCHEN MAKEOVER PROJECT CALL MARK
020 8418 9192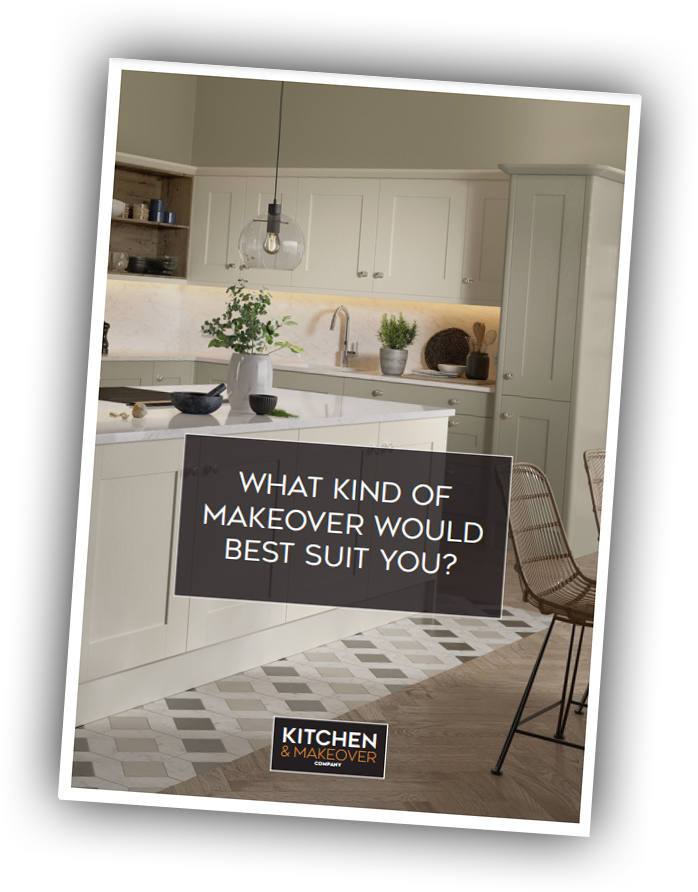 100% completely happy with our kitchen makeover
We would like to say that we are 100% completely happy with our kitchen makeover. The worktop and doors look fantastic and complement the extractor fan and splashback very well. Perry the fitter did an extremely professional job, he listened and took on our requests as he was installing the job and he was very clean and courteous. Kind regards
---
A big thank you to you all
The kitchen looks great, just like new now and we are really pleased with how it has turned out. All we can say is a big thank you to you all, especially Perry who is a top class guy and fitter.
---
Absolutely delighted
It is BRILLIANT !! I am absolutely delighted with my new doors - thank you. Thank you also to Perry & to the delivery man who were both very professional. I shall be back in touch at some point next year for a kitchen makeover.
---
Excellent quality throughout
Many thanks for the great job you did making over my kitchen. The quality of the doors and worktop are excellent, much like the customer service which is rare these days. And it didn't cost the earth either!
---
It has given the kitchen a whole new lease of life
We absolutely love it! It looks great, it has given the kitchen a whole new lease of life. Both you, Mark and Perry have been fantastic at every stage of the process. We will not hesitate to recommend you to anyone thinking of doing the same.
---
We are over the moon
We are over the moon. I am so pleased with the end product, it looks like a brand new kitchen. It's truly amazing. Perry was excellent, so professional. Thank you.
---
We couldn't be happier
The kitchen looks amazing! The tiler is coming in 2 weeks or so (Perry gave us his number) so I'll send you a picture when it's complete. We couldn't be happier and already are beginning to forget the old one.
---